06.05.2021
Insights from Elevating the Status of Reuse - conversations in cleantech episode one with dr. Nilofer Christensen, Founder of Swap-Studio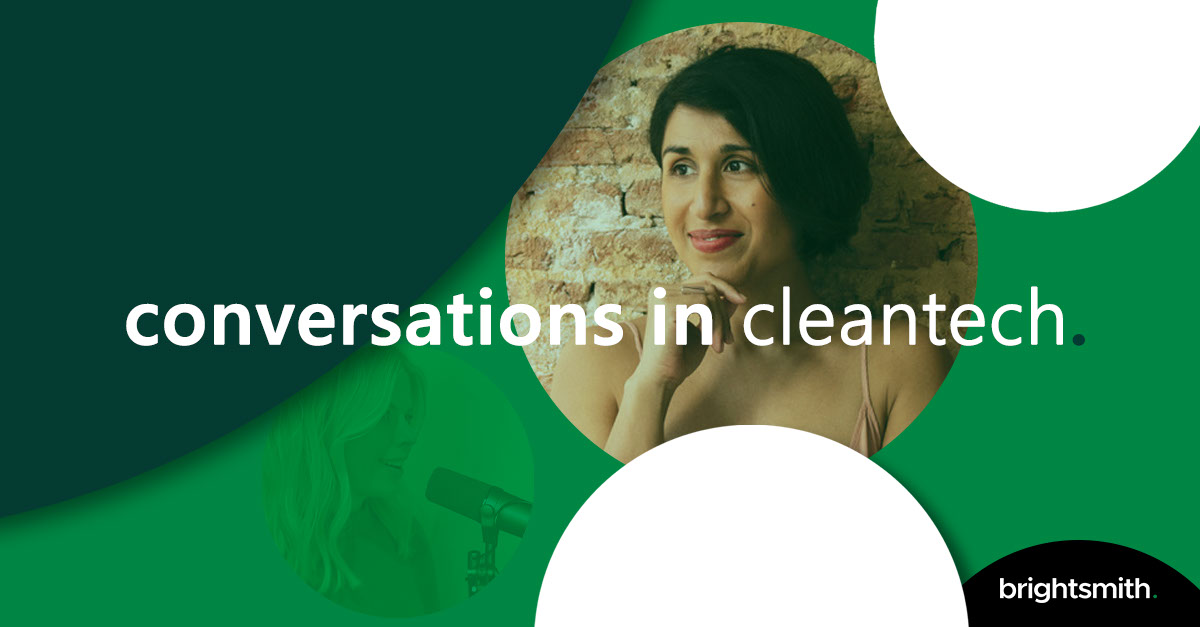 Dr Nilofer Christensen is the CEO and Founder of swap-studio, an energetic team whose mission is to elevate the status of reuse and make it the number one choice for consumers. Australian by identity and Indian by heritage, Niloo now resides in the Netherlands where she has cultivated a hugely successful career; with an engineering background, Niloo's past experiences include her role as a Senior Product Manager at TomTom and Chief Operating Officer position at Chargetrip. When it comes to the topic of scaling cleantech companies, Niloo brings a rare perspective. She has been central to building multiple tech startups before taking the step to found her own businesses.
A circular platform that allows customers to exchange pre-loved and vintage clothes, accessories, high-quality household goods and furniture online, swap-studio is primed and ready to tackle society's throwaway culture – but, as we discuss in episode one of conversations in cleantech, it's no mean feat.
Read on for Niloo's key insights, but also be sure to listen to the podcast in full here.
As someone who is unwavering in your commitment to having a positive impact, how do you live your purpose?
For me, it is incredible to have a platform to do more but COVID has impacted us all. I think as a result people are starting to prioritise what matters to them; as more of us work remotely or in a hybrid way and as the scope of work/ how it is defined, the more we start to question our day to day activity. The way I live my purpose is understanding and taking ownership of the fact that there is so much more than just my everyday life. If I really want to live my purpose and live what I'm passionate about, I have to look outside of that.
To effect real change, we need to start to look outside ourselves and say, how can I positively impact my nested system as well as the planet as a whole. Every small step we take in that direction amounts to something bigger for mankind.
Where did the idea for swap-studio come from and why is the mindset shift that it is driving so important?
I started swap-studio in November 2020 and took the plunge earlier this year to take on the role as a CEO full time. It's a company I started because of the immense waste I was seeing from our consumerism. Finding tech solutions to the world's problems is what drives me. The online peer-to-peer platform is an exclusive community where members can swap items using a point system, which we call kudos.
Fashion is one of the largest global polluters; it is second only to the oil industry and emits more carbon than the maritime and international flights put together. If you look at the period 2000 - 2014, we buy 60% more clothes than we ever used to, we as consumers are the ones driving this immense pollution of the planet.
If we lengthen the life of just 1 in 5 garments in Europe by 10%, we will cut 3 million tons of CO2, save 150 million litres of water and divert 6.4 million tons of clothing from landfill.
What are the challenges to scaling a cleantech startup and, how you overcome them?
We are founded by women and are also primarily female-owned, which brings its own challenge. I have to balance my home life plus work being a parent of two young kids, which is the same with the other people in my team. Everything I'm doing is for the betterment of what I'm leaving behind for my family and my kids.
There is a chicken and egg problem when it comes to investment, investors want to see traction, and it's a very, very specific type of traction that they're looking for. Working at some big tech companies I found that the baseline for women is so much different; out of necessity, you have to make dollars stretch a lot more and make resources go a lot further. Investment attraction needs to be defined differently for businesses - all companies seemingly get assessed by the same set of criteria. I'm not saying don't judge us by the same standards; swap studio is growing at 18%, so competitively speaking growth metrics aren't so much an issue. However, that is even more impressive with minimal resources.
Despite the challenges, if you believe in something, you need to keep at it. Many of those who have succeeded just pushed a little bit harder than those who gave up; keep going a little bit longer than other people - one more day, one more week, one more month, grow another 8%, another 10% and another 15%.
How do you see the market evolving over the coming years and, what is the future for swap-studio?
As cleantech companies are primarily purpose-driven, many of us have come together because we have realised that individuals can achieve only so much. Coming together, we have more resources to achieve more collectively. We must use capitalism for good and change the status quo. Businesses are embracing the circular lifestyle of their products, which creates a lot of demand for us, and for cleantech in general. Elevating the status of reuse has become attractive to high-end lifestyle brands, for instance, our recent partnership with Studio HENK (a Dutch design brand creating customisable furniture for everyday life).
The dream for me is that that reuse does become the number one choice for consumers. We want to branch into digital services providing an uncertified skill that you could use in exchange for kudos that you could then spend in the community, whether that's dog walking or amateur photography. We're also looking to collaborate with other marketplaces to launch our own clothing brand made from deadstock fabrics and work with retail brands to help them sustainably liquify their unsellable assets. A lot is coming in the pipeline.
Hosted by Jenny Gladman, Director at Brightsmith, this instalment is an informative listen for anyone seeking actionable insights on how innovators within the consumerism space can have a positive impact on the world and affect real, proactive change.
Listen to the podcast in full here. Check out swap-studio's website and Instagram and connect with Niloo on LinkedIn to follow her journey within cleantech.
Posted by: Brightsmith Recruitment