20.05.2021
Insights from Powering Net Zero - conversations in cleantech episode two with Bramble Energy's dr. Vidal Bharath, COO and dr. Erik Engebretsen, Head of Engineering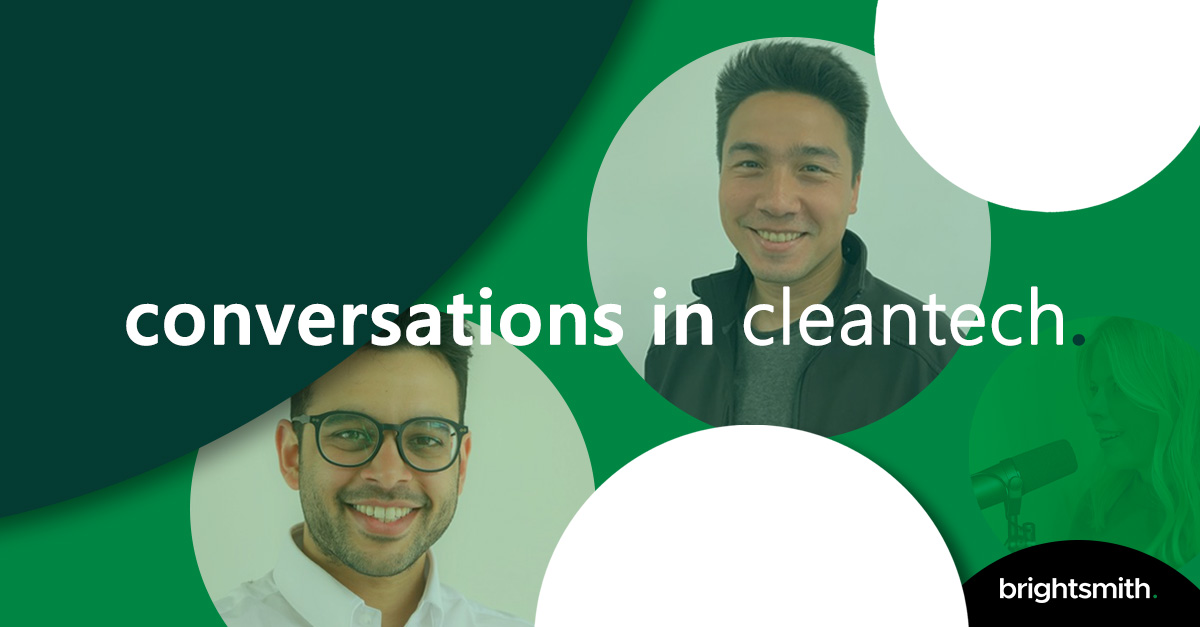 INSIGHTS FROM POWERING NET ZERO CONVERSATIONS IN CLEANTECH EPISODE TWO WITH BRAMBLE ENERGY'S DR. VIDAL BHARATH, COO AND DR. ERIK ENGEBRETSEN, HEAD OF ENGINEERING.
Bramble Energy is a revolutionary fuel cell manufacturer which counts pioneers Dr. Vidal Bharath, COO and Erik Engebretsen, Head of Engineering as part of its rapidly expanding team.
Founded in 2016, Bramble Energy is an innovator of renewable energy technologies, designing and manufacturing high-performance, low cost, fuel cell stacks using printed circuit board (PCB) materials and processes. Bramble Energy was born out of the desire to construct hydrogen fuel cells using existing materials and manufacturing techniques with well-established supply chains; thereby solving perhaps the greatest barriers to the adoption of fuel cells; manufacturing complexity and scale-up.
Bramble Energy developed the unique, patent-protected, printed circuit board (PCB) fuel cell – the PCBFC™ and is the first fuel cell company with the manufacturing capacity to supply gigawatts of fuel cell hardware, something the battery industry has spent many years and billions to achieve.
Read on for Vidal and Erik's key insights, but also be sure to listen to the podcast in full here.
Talk us through Bramble Energy's journey so far?
Vidal: As with every startup, we've had a tricky road that's had lots of ups and downs, but the positives massively outweigh the negatives. We have taken a really cool idea from a chemical engineering department at UCL and Imperial College and have run with it. Bramble Energy now has its own facility, having just increased the space by over 100%. We have also built our team from three up to nearly 25 within the space of almost six months of funding.
We strongly believe in the hydrogen economy and in empowering renewable energy; this is essentially the ability to store green electrons from wind and solar into a form or energy vector, such as hydrogen. The driving force was to reduce fuel cell prices and get them into the hands of people who can deploy them, not just in niche products, but in projects and applications that are cost comparative to existing electricity generating technologies.
What is cleantech and where does Bramble Energy fit into it?
Vidal: For us, cleantech is any technology that can give us a better environment and provides a more sustainable route to the things that the incumbent technology is trying to achieve. You could count batteries and fuel cells as cleantech because they're giving us a route to market for mobility applications, replacing diesel and petrol in some instances.
The way Bramble fits in is actually quite unique because we are spread across a broad spectrum of industries and sectors. Our applications go from anything from the very smallest scales such as 15 watts of power for charging of mobile phones, or for CCTV lights, all the way up to power for trains and planes, which you know, hundreds and hundreds of kilowatts or megawatts of stationary power.
Erik: The majority of people working in cleantech are passionate about helping the environment in the long run. We know it is important to never sit on our laurels and that our victories constitute fixing a very small part of a very big problem. It's a never-ending cycle but it's a cycle that I'm really happy to be a part of.
What are the challenges to scaling a cleantech startup, and how you overcome them?
Vidal: There's always lots of challenges, but these are the things that get me up in the morning – I've often been referred to as a fixer of problems. I'd say building a good quality team around you is crucial. It's all well and good to have a great idea, however, you have to have the right people around you to help develop it; this includes having informed investors that understand your sector/ industry and can help you execute your vision. Getting a product to market is not one person's responsibility; you need to have a full support system in place.
Erik: I'd say that we were quite lucky when we first started because we had the biggest academics in the field cell space working alongside us. Through them, we were able to access useful commercial relationships with people that they had encountered throughout their careers. Thanks to this fantastic start, our focus is now on unlocking the larger markets. With the team that we've built, we have an extraordinary amount of resources that we didn't have access to just 12 months ago.
What advice do you have for people starting out within the cleantech space?
Vidal: It may be really difficult but everything we do is worth it. Net Zero is urgent, and at Bramble Energy, we're pushing really hard to make it happen. My advice to those starting out would be to stick with it; you'll find the solution in the end. It's unbelievably fulfilling to be going to work and doing something that makes a difference.
Coming back to investors, to those seeking funding, I'd recommend that you get as much external input as possible. Try and get like-minded people to buy into your idea and get honest feedback. When you write your business plans taking your time is key; create iterations and consult with as many people as possible… don't stop until you feel your messaging is perfect. It's all about having confidence in yourself to believe back your own idea.
Erik: We always turn to each other, especially the darkest hours, to keep each other going. And I think that's the sort of environment we've tried to continue to nurture, even as we've grown. My advice is to keep your head up during challenging times and never lose your intellectual curiosity; ask questions outside your space and as Vidal says, discuss your ideas with others - don't be afraid to come out of your shell and leave your safe space.
How do you see the market evolving over the coming years and, what is the future for Bramble Energy?
Vidal: We don't believe that fuel cells are the only technology that will decarbonise the world: a combination of lots of different renewable Tech will need to be involved. However, the fuel cell industry will be a major contributor because of how diverse the technological solution is. For one, the ability to scale in size from 15/20 watts up two megawatts, or even gigawatts, is unparalleled. The refuelling ability is impressive; you can refuel your vehicle in two or three minutes (versus having to recharge for a much longer period) and get the same driving experience with zero tailpipe emissions. With that being said, I definitely think that the cleantech space, in general, is going in the right direction. It is only going to get bigger because we have a climate crisis.
Erik: For Bramble, if in 12 months, we have commercially available systems and several products, I want people to ask: "how clean is your hydrogen?"
Vidal: If the last 12 months are anything to go by, then the next 12 months will be really exciting. We're aiming to have more products in the field and want to obtain commercial deals with OEMs, tier ones, and various other companies across multiple industries and sectors. When I'm pondering things, I often look out the window and see lots of cars, trucks and buses go by. Knowing that these can be replaced by our version of electricity generation for motive applications is what drives me. Seeing Bramble vehicles or vehicles powered by Bramble propulsion systems will be a truly seminal moment. We're aiming to go out and raise further funding later this year to help achieve these goals whilst and support our growth plans in terms of headcount – building the team to around 80 people.
Listen to the podcast in full here. Check out Bramble Energy's website and LinkedIn. Connect with Dr. Vidal Bharath and Erik Engebretsen on LinkedIn to follow their journeys within cleantech.
Posted by: Brightsmith Recruitment