08.06.2021
Insights from Investing in a Green Future - conversations in cleantech episode three with Siobhan Clarke, Operating Partner at bp Launchpad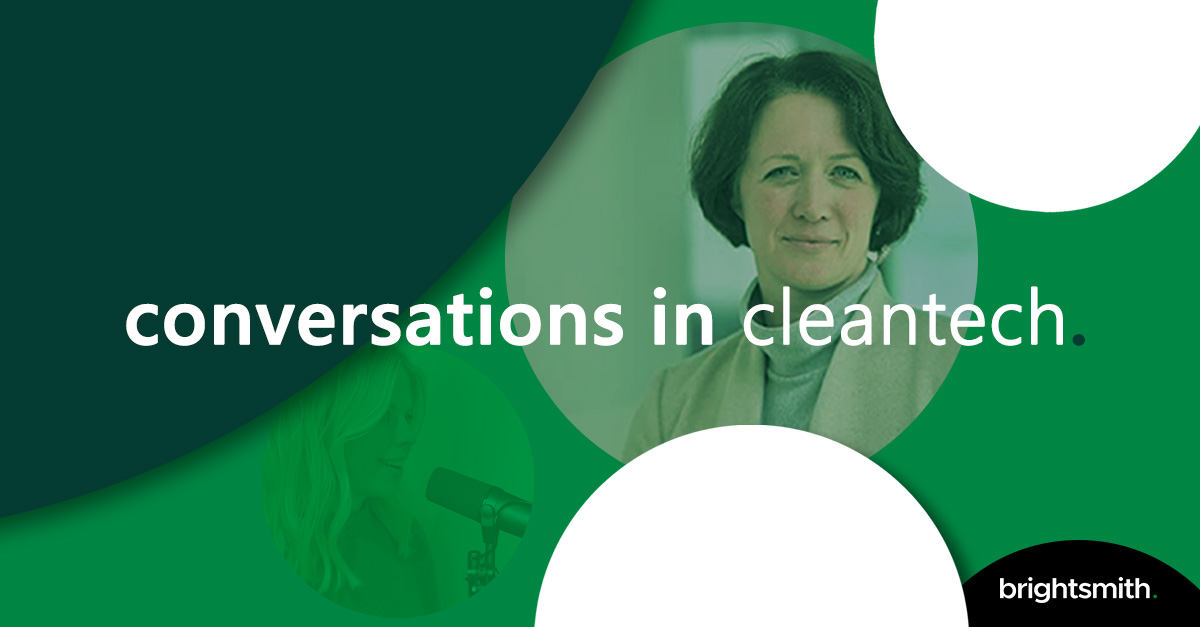 Siobhan Clarke is the Operating Partner at BP LaunchPad, a 'scale-up factory' that exists to generate sustainable change by building a progressive portfolio of digitally-led businesses which reimagines energy. BP LaunchPad's portfolio includes innovative companies such as ONYX InSight, LYTT, and Fotech Solutions, Finite Carbon, and STRYDE.
Siobhan is academically decorated across the pond with a degree in Electrical and Electronic Engineering with French from The University of Manchester, a CIM post-graduate diploma in Marketing, a Post Graduate Diploma in Manufacturing, Design and Management from The University of Cambridge, and MBA's from the Alliance Manchester Business School and The University of British Columbia.
She has a colourful career history to boot which has taken her across the world and enabled her to work with some of the most exciting companies. Before LaunchPad, she spent eight years at CISCO in strategy-led positions, namely Chief of Staff, Services Strategy & Acquisitions and Cloud and Managed Services Growth Hacker where she was pivotal in helping to creating Cisco's Future in Cloud. Siobhan is also the co-author of The Founder Handbook - Getting to your first ten Enterprise Customers (alongside Andrius Sutas).
Read on for Siobhan's key insights, but also be sure to listen to the podcast in full here.
Tell us about your journey in scaling companies and how you came to work for BP Launchpad?
I've always been fascinated by the commercial end of Tech. For me, technology can be many things, from biotech to software to cleantech. At the beginning of my career, I worked at small startups before they were even called startups and also helped advise governments to understand how to take small pieces of technology and turn them into the multinationals of tomorrow. This led me to study for an MBA and on a journey around the world with CISCO.
While I was working in San Francisco, I got a real bite into the startup world, predominantly early seed and early Series A companies that needed help turning their ideas and turning them into reality. I set up my own company, which was the cornerstone of some of the ideas that have gone into the book I have recently published and ended up in venture capital as a result of that. BP came knocking because we want to change the world, we want to move towards net zero.
What is cleantech and how does LaunchPad fit into that?
Cleantech could be many things; it could be climate tech, it could be a conversation around ESG, it could be AI to solve climate change. For me, it is the creation of companies and solutions to be able to solve the net-zero challenge. LaunchPad's focus is to help create and grow digital companies that can connect into the cleantech space, combining leading software with large industrial infrastructure assets, to make the world a better place. We currently have five portfolio companies and are looking to add another five to 10, so that we get to a holistic portfolio of 10 to 15 companies by the end of 2022. We are looking for companies that have huge amounts of potential in them to address what's happening in the world and solve some of the most critical problems, but also have an ability to kind of grow in their own right.
We believe Launchpad is slightly different from other accelerators out as we take what's known as the platform model and venture capital and add fuel to that. We have practices that are set up across different areas to help grow technology, people, operations, and finance components; these are all stemmed from incredible talent. When a company comes in as part of Launchpad, these practices are all accessible and the experts essentially become an extended part of the team, imbedding a framework to help them to accelerate. I think it's pretty incredible to be able to stand on the shoulders of giants and learn from others that have gone before you. The second part benefit is that you are a part of a wide ecosystem of companies that are addressing kind of net-zero, a collective of passionate individuals that have this sheer ambition to change the world in their own way. Of course, the connection to BP is also pretty beneficial in terms of access to resources too.
What does the scaling journey look like and how important is the role of the board?
I used to think about scaling quite rigidly – that it's a five-year journey that starts with building the idea, getting initial customers on board, recruiting a team, raising some funding and then, once those foundations are built, create a real company with international divisions, important people on my board and grown from 70 people now on 10 million to 100 million. However, I realised that I was thinking short-term I asked myself how old is Amazon? How old is the iPhone? How old are cloud services? All these revolutionary technologies have had a fundamental impact on our everything lives, in such a short space of time. They have challenged the traditional scaling model.
I think companies scaling within the cleantech space should be very deliberately designing their board for the stage of the scaling journey in which they're at. If you go from seed to Series A/ Series B/ Series C, you often have different investors coming on board who have those skill sets, so you have a natural change to your board. In terms of the scaling stages, there are early stages so zero to one/ zero to ten; this is starting from an idea and thinking about how to gain your first 10 enterprise customers. At this stage, you should have an advisory board or something that helps the company to firm up its proposition. The board should have a business development focus, including people that can help with access and introductions to customers and networks. But by the time you start to hire in people, the time that you maybe have 10 enterprise customers, then you need to have an experienced board - one that knows the scaling journey. Interaction becomes less about advice and switches to becoming more of an equal support to the company, challenging it in the direction that it's heading.
What are your key learnings and advice for those starting out or scaling startups?
Failure is not all bad. If you're not failing at least five times a day, you're not growing in the right direction. Failure builds resiliency to bounce back and helps you define what success looks like. The two key things that drove me were curiosity, and hunger - the hunger to try new things and strive ahead, and curiosity to figure out what works and what doesn't. There have certainly been hard lessons along the way, one example I have is from my early days at Cisco when it took 18 months to get to over 200 billion of contract. It felt like it took a long time before we could reap the rewards of our efforts.
You've got to follow your passion but also be open to that passion changing and shifting as the world changes and shifts. I'd advise individuals who what to have a career in cleantech to go and find the companies that you think are aligned to your vision and just call them up. Get in there. If there's nothing ventured, there's nothing gained. If you're starting a company within cleantech, give Launchpad a shout! Even if the business isn't compatible with our portfolio, we can connect you to the ecosystem. Cleantech is a collaborative industry - it benefits us all in the end.
Why is cleantech important to you?
A driver for me is helping to protect wildlife as well as natural resources and landscapes on a global level, we need to keep our fragile ecosystem together. I'm interested in understanding the impact of the changes we make as an individual; for instance, how does installing a meter and turning off all the electricity at night or choosing a supplier that has renewables as part of their portfolio make a difference? I call this the wholescale movement of individuals the consumerisation of the electron economy. To know that I'm an actor in a larger system is important to me as well as being part of a business that is growing companies that support energy system optimization, that is driving traceability into the supply chain and that makes data available for people around the world to make sensible and deliberate decisions about the use of the scarce resources that we have. That's just pretty powerful stuff. I don't think we have even seen the beginning of what is about to happen for us within cleantech and that's exciting.
Listen to the podcast in full here. Check out LaunchPad's website and connect with Siobhan on LinkedIn to follow her journey within scaling cleantech companies.
Listen to BP LaunchPad's own podcast: frankly. the energy podcast for founders: Spotify, Apple Podcasts and Google Podcasts.
Posted by: Brightsmith Recruitment