23.02.2022
Insights from communicating the renewable energy revolution with Juliette Sanders conversations in cleantech season two episode three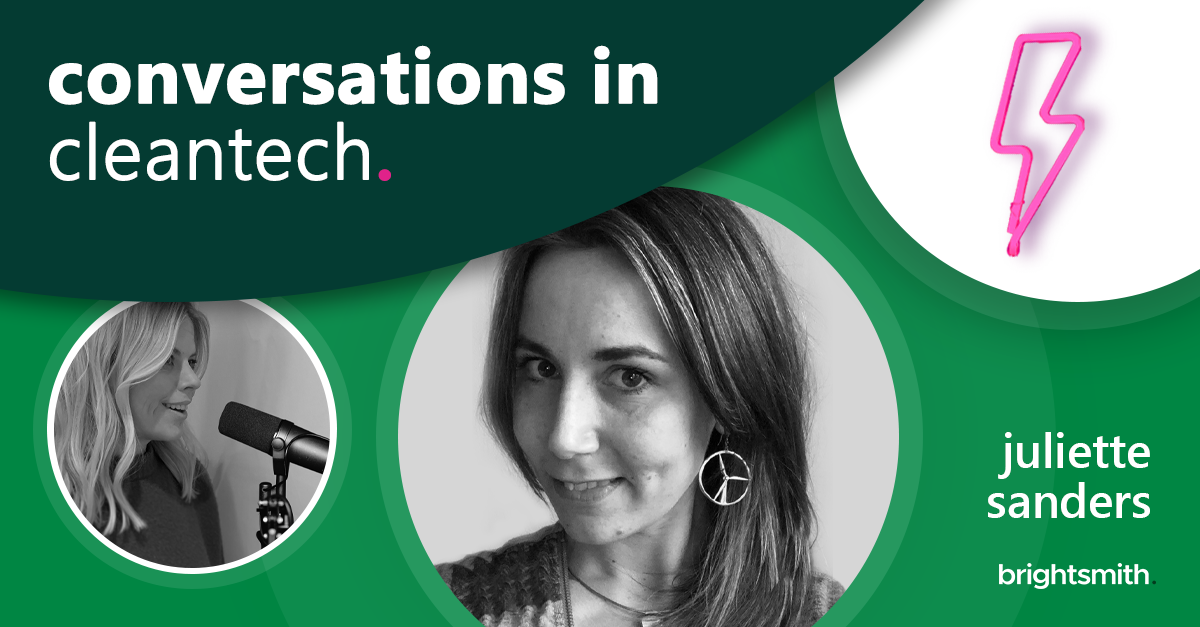 Juliette Sanders' infectious enthusiasm for energy is clear - whether she's spreading the word that one turn of a wind turbine can power a UK home for over two days dressed as an actual wind turbine, rapping about renewable energy on her YouTube channel, Killah Jules or working on BBC programmes about Powering Britain.
A self-proclaimed energy geek, throughout her career she has excelled at tapping into her technical knowledge to creatively and effectively communicate about cleantech in a way that inspires action.
After graduating from the University of Cambridge with a Manufacturing Engineering Master's degree, Juliette undertook a graduate scheme at EDF Energy that helped her discover her passion for communication, and ultimately live her purpose.
Juliette is currently the head of communications at Equinor and will be moving onto a new role in the new year looking at the wider UK energy system. Read on for Juliette's key insights, and be sure to listen to the podcast in full here.
You went from an engineering background into a communications role, who or what inspired you to take that path?
I had really, really good managers at EDF Energy; they took a chance on me when I only had six months experience in media. They gave me a role and taught me almost everything that I know on the job. I remember having this conversation with the lady that was hiring, who then became my manager when I wasn't going to apply. At that point, it was a toss-up between a media role and an analytical role - I think the media role was less money as well. I was thinking, what should I do? I think I'll enjoy the media role more, but the analytical role might be better for my long-term career, and I didn't feel like I'd wasted my degree.
I just remember my manager saying to me, "if you've got energy, intelligence and enthusiasm, that's all we need and we can work on the rest". That was really inspiring to me, both for getting into the industry and how I now approach hiring people - it's not necessary to look at what experience they have, what qualifications they have, it's more about how they are going to work in the role. If they're enthusiastic about the work, then they're going to always do the best job that they can.
I'm also lucky in that I've had loads of brilliant female role models across the industry, both in communications and in cleantech. Bridgit Hartland-Johnson is one of my biggest inspirations. She's really cool, really clever and does a lot for younger women in the industry and has taken a lot of us under her wing. There's a little gaggle of us that kind of follow her around and really look up to her. She's always got our backs, and it's inspirational to see somebody that's that down to earth, but that's so clever as well.
What is a real highlight from your career as an entirety?
One of my biggest career highlights was when I was able to take a BBC film crew offshore. I worked on this half an hour programme called Powering Britain, and as part of that, I was able to go and stay at the world's biggest offshore wind farm at the time, Hornsea One. I got to stay 120 kilometres offshore on a jack-up vessel, where a boat puts legs down on the seabed to jack themselves up so that it's stable, and I got to go to the top of a turbine too.
I'm the sort of person where I really buzz off a challenge, and that was a very, very challenging project to work on. I was trying to organise logistics for somewhere that I'd never been before, working out how we were going to get from the turbine to one boat to another boat, there were so many different stakeholders involved and there was all the media training for the staff, making sure that everybody knew what was happening at what time, plus all the safety elements and training. It was challenging, but I really, really enjoyed it, I got a lot out of that experience and found it incredibly rewarding. I felt a lot of pride when I got to watch it at the end, too.
What is the most enjoyable part of your job in cleantech comms?
One of the things about the job is you never really know what is going to be on your desk when you get into the office. Hopefully, most days you try and stick to the plan, but because of how comms can be quite reactive, something can come in from any point, at any time. One of the funniest days was that there was this story about bird poo on transition pieces - I had to become an expert in guano in a day, and I'd never even heard the word guano before.
But that is what I love about the job - you're constantly learning. There may be something that you literally knew nothing about the day before, and within a day you're speaking to experts trying to get as much information from them as possible, so that then you can brief other people. It's a great job for people that like to learn.
What is one message you would like to leave with our audience?
Follow what you like to do, for sure. The easiest way to become successful is to do what you like, but to be authentic as well - that's something that's very important to me.
Sometimes the way that I approach things is very much more in line with my personality than how things have been done before or what is the expected way of doing things, but I think that's enabled me to get to where I am today. It just makes my working life a lot easier, as I am who I am at work, as well as outside of work.
So, I truly think success comes from being authentic and doing what you love.
Enjoyed this article? Listen to the full podcast here, connect with Juliette on LinkedIn to follow her journey into communicating the renewable energy revolution.

Posted by: Brightsmith Recruitment