31.05.2022
Spring Sparks: Connected Kerb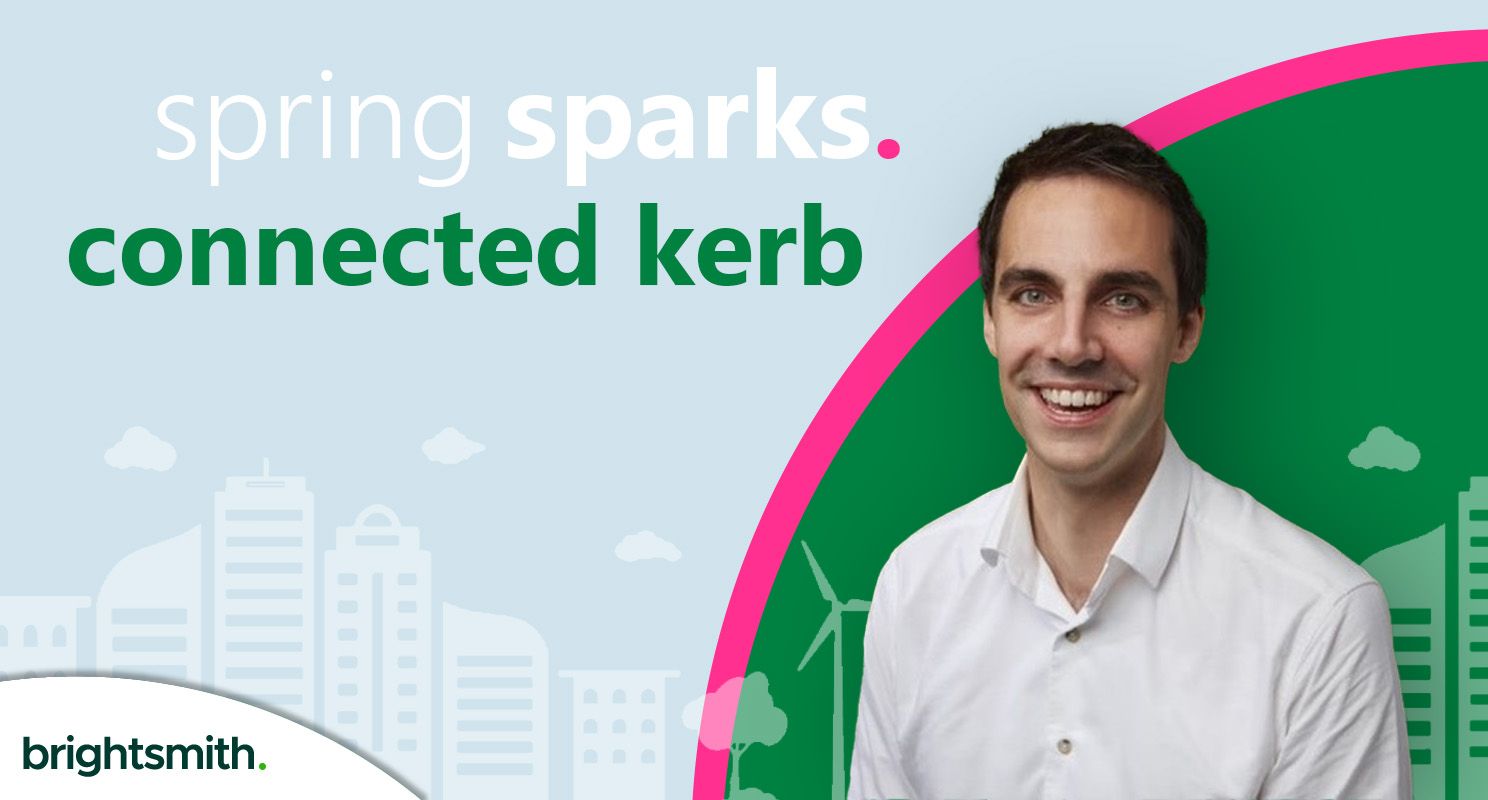 | | |
| --- | --- |
| Company | Connected Kerb |
| Cleantech Sector | EV Charging Infrastructure |
| Location | London, UK |
For the UK government, the phasing out of petrol and diesel cars is key to achieving Net-Zero. Despite setting the ambitious target of no new petrol to diesel cars to be sold after 2030, for the members of the general public 'old habits die hard' and the UK's Electric Vehicle infrastructure needs to undergo rapid and significant improvement for opinion to be swayed away from petrol and diesel. One company who are instrumental in facilitating this switch to EVs, is Connected Kerb. The founders of Connected Kerb were made aware of the challenges of the current UK EV charging infrastructure during their time working at Transport for London. Through their unique position, they felt they could develop a product which was future proof and significantly different from current market offerings in terms of product interoperability, scalability and modular technology. From this Connected Kerb was born with the objective to make EV charging sustainable, affordable and accessible.
Connected Kerb have never swayed from the belief that charging should be as easy as, 'turn up to a readily accessible network, plug in and get on with your day.' In reality, this means that there should be a charging point at a convenient location, which for most people is where their car is parked 95% of the time - either at their workplace or home. For the 60% of people who are not able to charge their car at home, a viable alternative which is quick and accessible must be provided. The founders realised that there was an opportunity for a cost-control model on the sockets used to charge EV's which would appeal to the public sector. Through a contract lifetime, sockets are likely to go through multiple iterations with improvements in technology each time whereas the high infrastructure power pack which is buried underground is likely to remain the same. Operating a model like this allows continuous improvements to the sockets and the ability to easily expand the network without needing to complete massive civil work each time a socket changes or a new charging station is added.
Through this model, Connected Kerb has seen incredible success and is now operating on a huge scale with contracts in the thousands. Local authorities have responded particularly well to their unique cost control model and are awarding Connected Kerb large scale contracts to scale up their EV infrastructure. In the last three years, the firm has expanded rapidly to become a team of 70, based mostly out of their Soho head office. They now have their sights set firmly overseas and are looking to collaborate with international partners, particularly in the Benelux region, to grow the business to the next level.
We caught up with Connected Kerb's Chief Digital Officer, Ben Boutcher-West to talk about the bright future of the company and the people they are looking to join the journey.
Hello Ben, it is a pleasure to speak to you today! Could you start by telling us about the type of culture you are developing at Connected Kerb?
It is a very interesting one, for sure! For us, it is important to maintain some of the start-up agility and excitement that a lot of people crave as we grow. We have had some of our very senior people leave large corporate organisations to come and enjoy the full spirit of start-up culture. We know it is crucial to retain this to keep moving, challenging ourselves and innovating. However, this has to be balanced with the fact that we are scaling very quickly, deploying thousands of charge points which brings a need to balance startup life with diligent processes. We want to feel like a start-up, always ready to ask "can we do more?" but act and feel like the national infrastructure player we are fast becoming. We now have thousands of charge points being deployed which all need to be on a cyber secure platform and serve high-performance KPIs in infrastructure services in terms of uptime and quality. There has to be a balance between, 'start-up, agile, make mistakes' versus 'national infrastructure, safe, secure, scalable' but we're all really enjoying it. In terms of our people, we're proud of our diversity. We're over 40% female and have a huge number of different nationalities which is only increasing. We now have lots of different people with different backgrounds and skills all coming together within the two balanced cultures we have. People are our most important asset, I was blown away by the talent across the team as I came on board.
What kind of people are you looking to join your team?
A key thing we look for in interviews is that they have a passion and background interest in sustainability. At Connected Kerb, there is a real opportunity, every day, to work on technology that is making a tangible difference to the world we live in and the air we breathe. Within the cleantech field as a whole, there is a huge demand for a wide variety of skills and backgrounds - from financial services to tech skills, to HR and many more. I meet a lot of candidates who aren't sure whether their skillset fits in the EV industry and I always tell them I guarantee it will, we can very quickly plot how your skillset applies. Personally, I find it particularly exciting to be able to stand behind a mission that can make a real impactful difference as a business to our world, you don't get those opportunities every day and you can feel the excitement that brings to our people. 
What can people look forward to seeing from Connected Kerb in the future?
There are three things which I am really looking forward to. The first, in the near term, is that we have some exciting products that are going to enable us to do some different things both commercially and technically. I'm really looking forward to these announcements, some of which are imminent! The second thing which has come through our innovation programme is that we've been looking at price parity and flexibility services within the charge point session for the user. Led by our Innovation Director Richard Turnbull, this has enabled us to stem the tide of the energy crisis and offer the best rate of charge to customers. Finally, and key for me in particular is the digital opportunity for the business. We have a huge number of sockets coming under our management with an even larger digital population for an app, or other means, to monitor charging sessions which will allow us to build a significant number of insights on those sessions. This will enable us to look at how we procure energy, how we can manage our demand on a constrained grid and ultimately work more closely with users. By working with users we can look at offering the best price at the most convenient location, over a period of time that suits their trip purpose. Something Chris, our CEO and all the SLT are very excited about.
Keep up to date with Connect Kerb's journey here.
If you are looking to expand your cleantech team, reach out to a member of the Brightsmith team today -
info@brightsmith.com
UK: +44 (0) 203 488 7352
USA: +001 (832) 226 4952
Posted by: Brightsmith Recruitment