28.11.2022
Overcoming Barriers Threatening the EV revolution with Michael Bakunin | Conversations in Cleantech | Season three, Episode one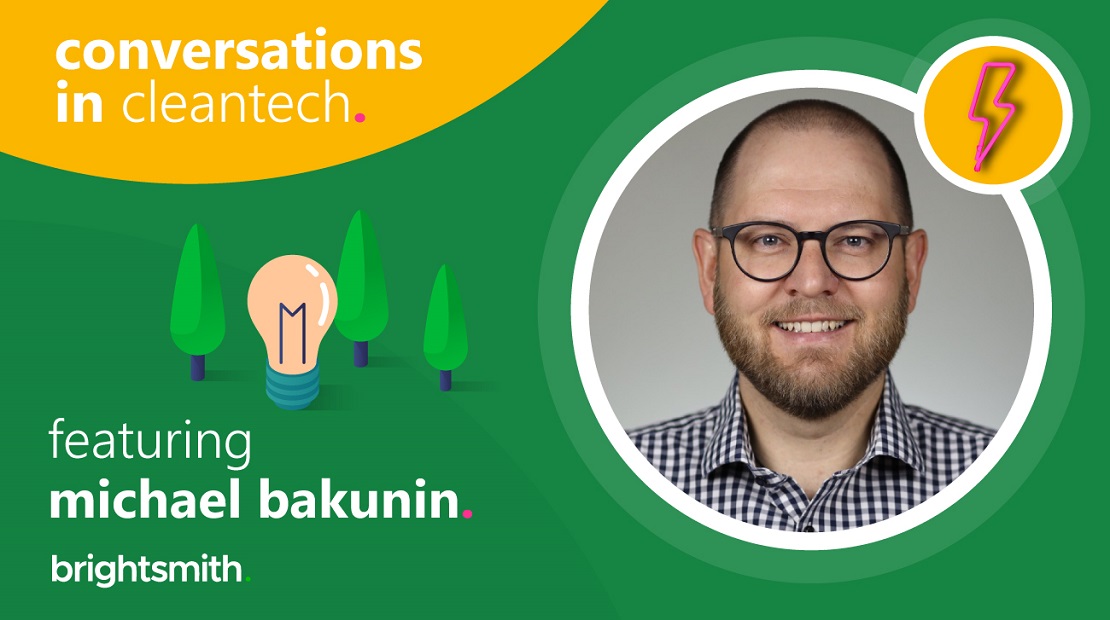 Michael Bakunin's infectious enthusiasm for EVs is clear - whether he's sharing his extensive knowledge on his YouTube channel, Bakunin Live | Electric Vehicles or advising companies on how to embrace electrification in his role as Managing Director of Advanced Mobility at FTI Consulting.
An EV industry veteran, Michael found his passion for all things electric when working on the very first mass-produced EV, the Nissan Leaf. Since then he has dedicated his career, and a large amount of his downtime, to accelerating the EV revolution - working with the industry's biggest players to ensure the barriers to EV adoption are in the process of well and truly being knocked down.
Read on to discover Michael's thoughts on the thrilling journey the sector is headed on, and be sure to listen to the podcast in full here.
Why has it been so important to you to share your knowledge through your YouTube channel?
I think there are three main reasons why I decided to start sharing content.
The first is that I realised throughout my career in automotive, specifically electric mobility, I have gained so much knowledge and expertise in different areas and I felt it was my duty to share it. That was the starting point but I quickly realised that there were also other advantages.
Every time you produce a YouTube video or podcast episode, you need to invest time into educating yourself on everything about the topic you are covering. Even if you have some broad knowledge of the space, you still need to research the intricacies. This takes work, research and discipline but it helps you to keep up to speed on advancements that are relevant to your area of work. I'm the type of person who learns when I do things with my own hands, such as, analyse materials, re-write, restructure, thought shower my own ideas so it has given me a really strong learning tool.
When I first started the channel, it was mostly just 'talking heads' but then I realised that I can invite great minds on and ask them thought-provoking questions. I don't do it too often but when I do I make sure guests are forward-thinkers with dream careers and unique projects. This is a great way to enhance your network, meet new people and potentially do business with them. You may not always feel comfortable approaching someone in your industry out of the blue but with an excuse, it becomes much easier.
Another factor to consider is the importance of social media in today's world. It is part of your personal brand and you never know when you will need it. People change jobs, make career leaps, and launch their own companies thus having some presence and credibility on social media in your area of expertise is becoming more and more important these days.
What are some of the themes that are driving EV charging in the US?
When I joined the industry 10 years ago traditionally analysts would say there are several barriers to EV adoption globally. The first was choice - if we look back to 10 years ago you could hardly find a suitable vehicle whereas these days that is not a problem anymore. I think every impactful carmaker has declared that they are going to electrify their lineup.
The next was the price and although this is not yet solved, there are some positive improvement indicators. EVs are more expensive, partly because of the cost of the battery pack. In previous years, the price per kilowatt hour was going down and as a result, the price of the vehicle was also going down. However, as a result of supply chain issues and the scarcity of raw components, we haven't seen the cost of EVs decrease recently.
However, the main factor which has changed over the past few months has been fuel prices - they have skyrocketed. A price metric when talking about the cost of EVs is total cost ownership. If you calculate the cost of ownership of an EV over a five to ten-year period, EVs have become more attractive across segments because of gas prices. Initially, when people see the price they need to pay upfront it is still quite shocking but in recent years more people have recognised the benefits - barely any maintenance or repairs and it doesn't cost you $70-100 every time you fill up your tank.
Another barrier was charging and there are still some issues within this area. Bloomberg is forecasting that by 2030 there will be 38 million EVs in the US. To accommodate these vehicles, we need to have 10,000 charge points delivered every day between then and now. I do not doubt that we will hit that target as the entire industry is geared towards that mission. Generally, an accompanying charger is standard with the purchase of an EV, meaning that in 90% of cases the vehicle will be charged at home. What about the other 10%? What about road trips or fleet charging? We will need millions of chargers in public places and it is here we are going to face real problems. To construct a charge point, you need the right location, equipment, software and power supply. An ideal location for a charger would be next to a supermarket or coffee bar, one minute from the main road but locations like these lack space and power. If we cannot solve this, this will become the main barrier to EV adoption.
I believe on a federal level, the Government has the right focus with their clear electrification subsidies. I hear there is approximately $5 billion available from the Federal programme which will be filtering down into individual states. Once it gets there, how will it be spent and what is the intelligence behind the spending? These are the key questions which need to be answered. It will take several various players with different mindsets and cultures to join forces to make it work. From real estate firms to utilities, to tech companies, to carmakers to Governments, all of them need to be aligned and synchronised to be able to achieve ambitious goals.
What are the most exciting things on the horizon for EVs?
When I was working on autonomous drive technology, so-called Robotaxis, I realised that all Robotaxis will need to be electric because they are running around the clock. If these are the future of transport networks and we need to reduce CO2, then they must be electric. Here in California, the market leaders such as Waymo are fully focused on electrification. Fully implementing this technology in some of the larger cities is very complicated in terms of traffic and other factors. However, when it is rolled out, it is going to have a huge impact! It is more than electrification, it is actually changing our lives completely.
Enjoyed this article? Listen to the full podcast here, and connect with Michael on LinkedIn for more informative EV content.
Posted by: Brightsmith Recruitment