28.11.2022
Driving the Electrification of Fleets with Sara Sloman and Sam Clarke | Conversations in Cleantech | Season three, Episode two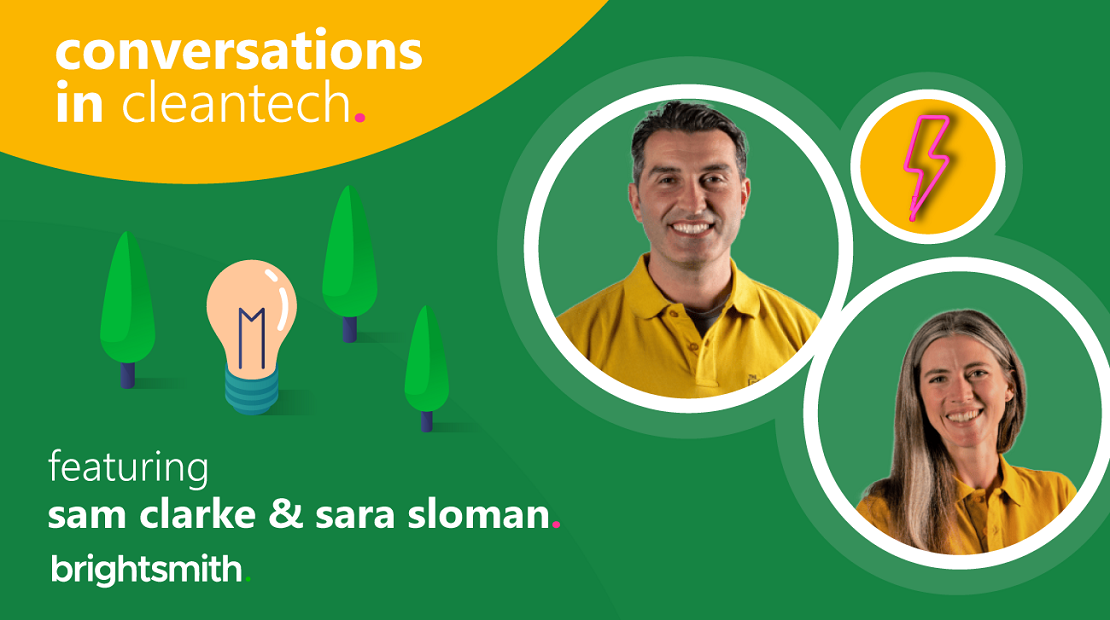 Sara Sloman and Sam Clarke are EV industry titans, having dedicated their careers to tackling some of the EV revolution's toughest challenges.
Sara initially started on the EV charging infrastructure side of the puzzle but has made the switch to software. With the customer experience at the forefront of her mind, Sara is working to ensure that paying for your charging is as simple as buying a coffee in her role as Director of Future Fleet at Paythru.
As Chief Vehicle Officer at Gridserve, Sam is helping to tackle the problem of charging on the go. Sam is pivotal in helping Gridserve to build the best, fastest, most prevalent and strategically important EV charging network in the UK. Whilst ensuring there are ample charge points for consumer vehicles, Sam is now turning his attention to scaling charging point infrastructure for fleets.
Passionate believers in the EV revolution, Sara and Sam have dedicated their careers to breaking down the barriers to ensure the successful electrification of transport systems. Through their webinar series, The EV Cafe, they are spreading innovative solutions entering the market, hoping to inspire more people to go electric.
Sara and Sam joined us on the latest episode of Conversations in Cleantech to talk about their experiences working with EVs to inspire the next generation of enthusiasts to join the revolution.
Read on to discover some of the highlights from our conversation or take a listen to the full podcast here.
How do we encourage more people to make the switch to EVs?
Sam: Often it is natural for people to try to do a like-for-like comparison between one thing and another but sometimes it just isn't that easy. With electric vehicles, we talk about TCO or total cost ownership, to help make a comparison between EVs and their petrol and diesel equivalents.
Although we do need to do this, because it demonstrates that there are cost savings achieved when you drive an EV, we also have to acknowledge that EVs and petrol/diesel cars are two very different things. An EV can't go the same distance as a diesel vehicle but on the other hand, you can't fill up your car with diesel on your driveway.
We have to try to figure out how to make people do little shifts towards behaving differently or utilising things in a slightly different way to what they are used to doing. Hopefully, with these little movements, we can then start to see bigger changes and eventually we start to see a migration toward EVs. We have to get the cultural shift moving but without frightening people in the process.
What are some of the key learnings you have picked up from your time working within the EV sector?
Sam: I think I, and many others, within the industry, spend a lot of our time myth-busting, trying to explain why the misconceptions are wrong. In hindsight, at the start of my career within the industry, I was guilty of assuming everybody knew as much as I did. I certainly don't make that mistake anymore! EVs are still an emerging market so why should everyone be experts in them yet?
In the early stages of the industry, I think collectively we should have done better to myth-bust before we really needed to myth-bust. One big misconception comes with the comparison between the batteries of EVs and mobile phones. Both are lithium batteries however this is where the similarities end. There is a legitimate case which says mobile phone batteries gradually die after a few years, this is just simply not the case with EVs but it is a common reason people cite for not making the switch.
We're now having to retrospectively claw back to the truth whereas if the communications had been clearer from the first instance it may have helped. I saw a tweet from a politician with EV statistics that frankly made me want to cry because they were so far from the truth. There is still a lot of education needed across the entire demographic.
What are the issues we are facing with scaling EV charging for fleets?
Sam: I think two main ones spring to mind - one is digital and one is physical. For private vehicles, there is a simplicity we need to adhere to in terms of a contactless payment system whereby charging and paying is as simple as buying a coffee.
However, for fleets, this system is not as useful. Fleet operators want a consolidated opportunity to have their details collected when they are charging and be invoiced in arrears at the end of the month - this is far better for them than going through expenses and administration. There are still several different digital solutions needed to make payments easy for fleet operators whether it be roaming or a relationship with a particular charge point operator.
The physical issue comes in the form of the type of vehicles which are going to need to be electrified over the coming years - vans, trucks, HGVs etc. Certainly in the UK and I suspect globally, most of the infrastructure developed so far is predicated on a car. Whereas there are going to be lots of long awkward vehicles that need charging with higher battery capacity and higher power charging needs. I am spending a lot of time trying to discover solutions for how we can diversify and grow our infrastructure to support commercial traffic before the ban on petrol and electric vehicles.
Sara: I think we also have to acknowledge that there isn't a full appetite within fleets yet. I work with fleets every single day and a scary number of them are just not ready yet. That isn't to say they won't make the switch eventually but they don't want to yet because not all the vehicles they want are available. My advice to fleet operators would be, don't be afraid to make the change as time goes on. You don't need to order 50,000 of the exact same vehicle (good luck with that even if you tried) but identify your 'low-hanging fruit' and see if there is an alternative vehicle for some of your fleet.
The AA has actually just released the first hydrogen recovery vehicle because they realised that the vehicle was perfectly adequate for the majority of callouts and it is zero tailpipe at the time they're moving around the country.
What would be your token of wisdom for working in the EV space?
Sara: For me, it is no longer build it and they will come, it is find who wants it and build it for them! There are people out there who are hungry for solutions, it could be a sustainability manager or a building manager, not necessarily your traditional fleet managers anymore. They will be somebody who really wants to get to grips with their environment and social governance and also their CSR and ESG. They are desperate for your help - reach out to them, attend events, talk on stage or even do a podcast. We want people to hear us and understand that we are here to help. Building the infrastructure that people need, will see us to where we need to be fastest.
Enjoyed this article? Listen to the full podcast here, and connect with Sara and Sam on LinkedIn for more informative EV content.
Posted by: Brightsmith Recruitment