28.11.2022
Award-Winning Solutions Powering A Cleaner Future with Vaitea Cowan | Conversations in Cleantech | Season four, Episode one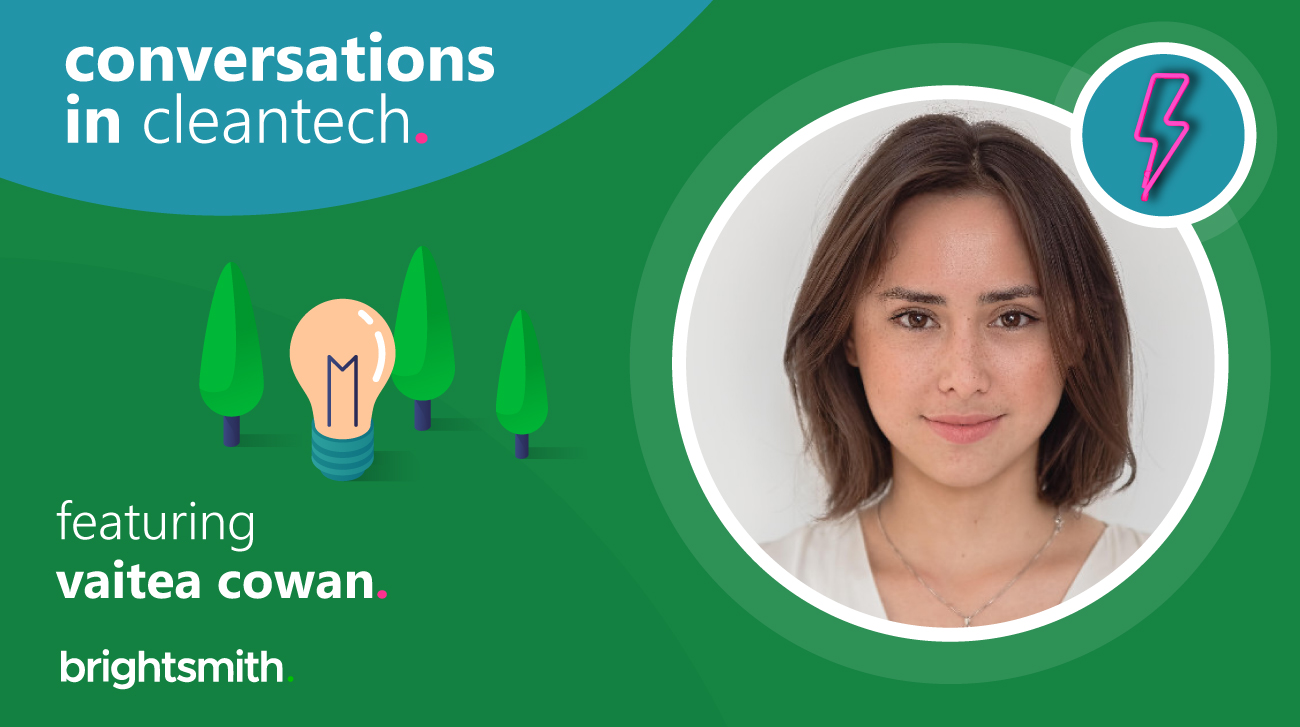 Vaitea Cowan is a force to be reckoned with as she continues her mission, with Enapter, to make green hydrogen a commodity.
With its roots firmly in Thailand, Enapter was founded by Vaitea Cowan, Sebastian-Justus Schmidt and Jan-Justus Schmidt with a mission to bring green hydrogen to the masses. Lead by its values of urgency, simplicity and transparency, the company is revolutionising the energy space and bringing green hydrogen to the world stage.
Their sheer determination and hard work over the past five years found the recognition it deserved when Enapter was awarded the inaugural Earthshot Prize in 2021. Using this as a platform, the company has gone from strength to strength and is predicting within the next decade they can make green hydrogen price competitive with fossil fuels.
Read on to discover more about how Vaitea's experiences have led her to be a pioneer within the green hydrogen community and be sure to catch the full podcast here.
How did growing up on an island inspire Enapter?
When I was fortunate enough to live in Thailand, there was an omnipresent sound and smell of either diesel generators or long-tail boats, puffing our smoke. I know this will be a very vivid memory for anyone who visits the islands.
I think this is the case in many remote areas today, as fossil fuels have been the cheapest form of backup energy, there was no need or curiosity to explore further - until more recently when we realised it's not the most sustainable solution.
I come from an island in the South Pacific called New Caledonia. It is making significant progress towards transitioning away from its dependence on fossil fuels. However, there is still a way to go as the main resource from the island is nickel and mining is a sector that is known for its use of diesel generators.
It doesn't make any sense to import fossil fuels to these remote islands when you can make fuel on-site with green electricity and water which will emit no carbon dioxide.
I think it is time to keep the momentum going and I hope to play my role in bringing green hydrogen to the islands, to the remote areas and to the larger energy sector.
How is Enapter scaling up its green hydrogen solution?
At Enapter, we truly believe that the quickest way to drive down the cost of green hydrogen is to build electrolysers as products, rather than projects, as these can be mass-produced and scaled.
They are much quicker to produce, install and maintain. With maintenance, if you have a gigantic system and one thing in the system fails then the whole thing has to shut down. Whereas if you have a lot of modular units, then you just have to shut down the one that isn't working and the system can carry on producing a lower quantity.
There are lots of advantages in terms of speed and cost but also when we go into mass production, we can benefit from economies of scale.
In terms of a timeline, we are confident that within this decade, we can reach a price point for green hydrogen to be cost-competitive with fossil fuels. There really is nothing that can stop us from reaching our goal!
What are some of the use cases for green hydrogen?
We believe we have the solution which can have a large-scale impact on replacing fossil fuels in highly-industrialised sectors.
We can already see the impact of our electrolysers to refuel aeroplanes. On-site, at the airport, our electrolysers are producing green hydrogen which is then used to refuel the planes and when they're flying they don't emit any carbon dioxide. The mobility sector has a lot of use cases for green hydrogen, from trains and planes to containerships, or if they cannot use green hydrogen in its pure form, they can use green ammonia derived from green hydrogen.
We're tapping into the industrial sector, the mobility sector and then, of course, there is the power sector - whether that be balancing the grid, powering remote locations, or seasonal storage. If you want to store a month's worth of energy without it ever going away, then green hydrogen is the ultimate solution. If you store green hydrogen and come back to it in two years, it will still be the same amount. It won't disappear or expire and when you come back to it, it will be waiting for you.
There is an abundance of uses for green hydrogen. We want to be the solution to fossil fuel dependency and have a true impact from the industrial level down to the individual level.
Tell us about the Earthshot Prize.
I think it is important to mention here, whilst I am a firm believer in green hydrogen, I am also grounded in the reality that it is not the silver bullet solution to repair our planet - it will take a diverse array of solutions that already exist today.
However, to talk about the prize, we were the inaugural winner of the Earthshot Prize which was launched last year by the Royal Foundation.
We were named winners by Emma Watson and it was a fantastic opportunity to bring green hydrogen to the world stage, to recognise its potential to replace fossil fuels and to acknowledge that it is a solution worth noticing and scaling.
It has been quite a journey from being nominated and going through the selection rounds - explaining the potential impact of green hydrogen, how extremely scalable it is and how we have the right time and approach to do it.
In October 2021, we learned we were winners and it was also a fantastic experience to meet the other finalists as well. The prize is not just about fixing our climate, which was our category, but also about cleaning our planet, protecting our environment and building a waste-free world.
I think the prize has shed light on the solutions and entrepreneurs who have the ambition to repair our planet. It is only through collaboration and cooperation that we can tackle the biggest challenge, and opportunity, our world faces.
What advice would you give to your teenage self?
I co-founded Enapter when I was 23 so I am still learning a lot and am continuously trying to do better. However, I think I would say to myself there is no limit to what you can do.
I would encourage myself to keep going and to try to involve others to join me and start having those conversations to create an impact on a small scale. It is like a snowball, it starts small but as more people join, it becomes bigger.
I would also tell myself to keep dreaming bigger because there really are no limits. No voice or idea is too small and when people come together to shape an idea it can have a great impact.
Enjoyed this article? Listen to the full podcast here, and connect with Vaitea on LinkedIn to follow the Enapter journey.
Posted by: Brightsmith Recruitment