28.11.2022
Appreciating Green Hydrogen's True Value Proposition with Christopher Jackson, CEO and Founder of Protium | Conversations in Cleantech | Season four, Episode two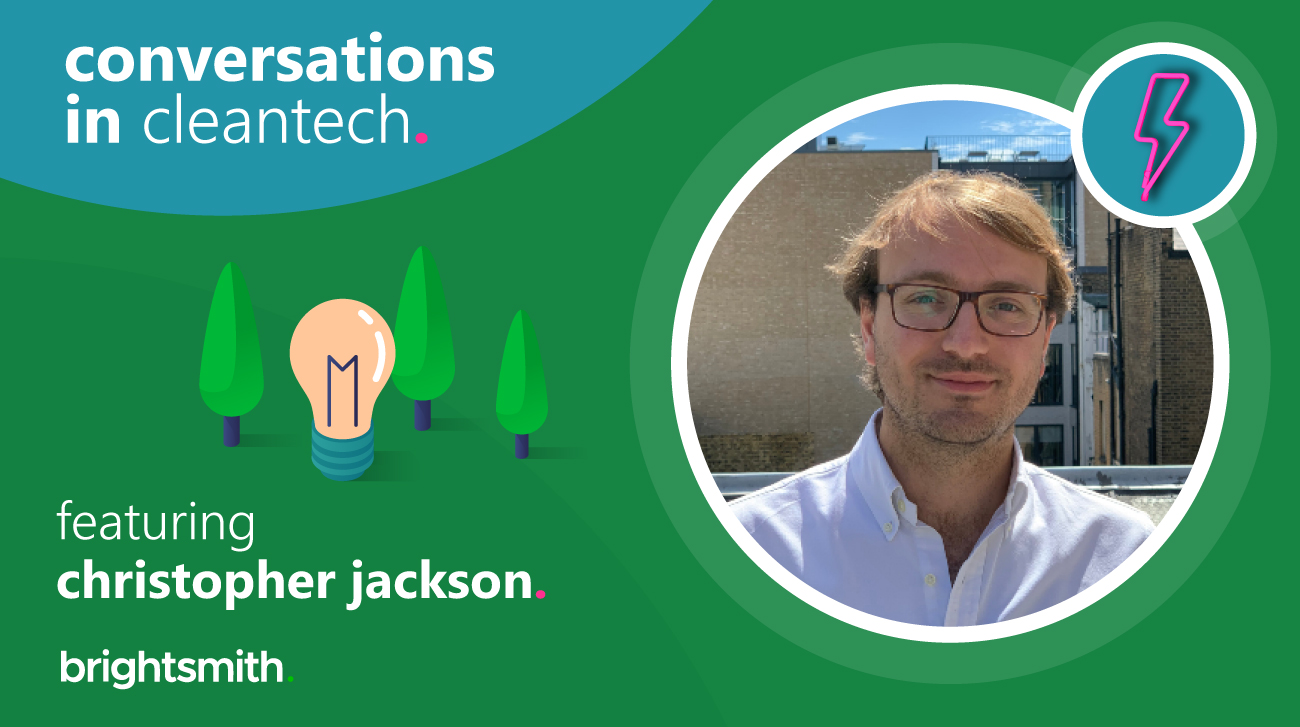 Christopher Jackson's journey to green hydrogen has been far from conventional. In his own words, his career has been esoteric, with roles at The World Bank and advising the UAE and Saudia Arabian Governments on energy strategy, before he founded Protium.
Protium aims to help organisations transition to a low-carbon future by designing green hydrogen infrastructure which seamlessly integrates with their operations.
Christopher's commercially focused background has allowed him to see the whole value proposition for green hydrogen in order to build Protium in a consumer-centric manner and truly help companies who are committed to low carbon make their ambitions a reality.
In this key takeaways article, Christopher discusses what drove him to found Protium and the big goals the company has for the next few years, whilst also discussing why the sector needs to bring more people with differing skill sets in.
If you would like to hear more from Christopher, listen to the full podcast here.
What was the driving force behind Protium?
I wrote my first paper on hydrogen back in 2015 and at the time, this may shock people, but ITM actually had full numbers on their system - you could see the efficiency, the CapEx price, everything.
From their website, it was clear people in the UK were talking about the fact that £100 million of power was being curtailed from the system. Even back then there was a conversation about how we use this excess solar and wind power and how we can decarbonise heat and transport.
My professor, Marco Dell'Aquila, who ended up becoming my CIO and partner at Protium, pointed out that there was no one writing anything about hydrogen. As I embarked on a fairly esoteric number of career stages, including the World Bank, I started having conversations with several of Marco's other students - Marco sits within a spider's web connected to a lot of the hydrogen industry's royalty.
During these conversations we kept bouncing around the same issues: how do you integrate solar and wind? How do you decarbonise these hard-to-abate sectors? How do you switch a non-dispatchable electron into a fuel that can be multi-vector and stored for long periods? This is when the Protium team really started to come together.
90% of the technologies we need to get to Net Zero already exist - the issue is around commercialisation and business models. I'm not an engineer but I think one of my skills is the ability to pull together bright, capable people and stitch together different pieces of the puzzle to create a business model that understands people's needs and concerns whilst delivering the value they are looking for.
I came back to London in July 2018 and spoke to a bunch of people about my crazy idea. Marco's words of wisdom were, 'don't be a consultant, go and build something like a proper business.' I said only if you leap with me. He realised he'd shot himself in the foot and joined me on the Protium journey.
What would be your message to people interested in getting involved in the energy transition?
The sector needs talent; when I say talent, I mean in every sense. At Protium, we are constantly hiring - we need talented project managers, passionate engineers, and commercially minded people, among many other roles.
There is a shortage of talent across the whole cleantech space. Whether your interests lie in EV charging, or wind or green hydrogen, there is a national call to arms to help us meet our ambitious Net Zero targets.
In September, Siemens Energy launched, in Parliament, a paper called the National Endeavour, which stated we will require a war-time level of mobilisation to hit the 2035 Net Zero target the Government has set.
Steve Scrimshaw, their Vice President, has said it will require a national effort across every part of the value chain, from companies that are building projects to engineering companies who are designing them, to supply chains for the equipment, to planning, to legal and banking for finance.
Although there it is a monumental task, there is a huge opportunity. Jigger Shah who is a renowned US investor famously wrote a book which stated the energy transition is the largest economic opportunity in economic history. There will be more investment poured into this sector than we have ever seen in any sector in history in a timeframe that is unparalleled.
If you are passionate about being involved, there is a limitless amount of opportunities to get involved or retrain from previous professions. Companies like mine want to hear from you and see how we can take your skills and experience on our journey.
What do the next couple of years have in store for you and the Protium team?
In two years, we intend to have several integrated green hydrogen projects in the UK going through the final stages of construction and in an ideal world going through the testing and final approvals stage just before they can become fully operational.
Our corporate goal is to knock a million tonnes of carbon dioxide a year displaced by 2030. The way we will achieve this is by showcasing in our first wave of projects that our model works, proving that customers are satisfied and showing the trajectory for cost declines. After this, we can really scale up the pace.
I think the challenge is that a lot of businesses have tried to run as fast as they can with global ambitions but they've spread themselves too thin, too early. I'm very mindful that we have a job to help the decarbonisation efforts but we also have a commitment to the people who have chosen to work for us, our customers, our suppliers and our investors.
So for the next few years, our focus is to get the first wave of projects completed, prove the model and show everyone that this seemingly crazy idea I have been speaking about for the last three years is real and then we can really move to scale this.
There is an enormous level of demand but sometimes I think people are wary of being the first mover. My message to people would be, if you think you can, you should help. We want to hear from you.
If you're a customer trying to figure out your own journey, if you are someone who wants to retrain, if you're an investor trying to support businesses in this space or if you're a policymaker who is passionate about Net Zero, come and have a chat.
We are trying to be bold and aggressive and blaze a path so that other businesses, entrepreneurs and investors know that this works because Protium can't do this alone globally.
If we can inspire people to dream big and maybe even copy us successfully, or in some cases maybe more successfully, then we know we'll have made a difference. We really want to make a material difference in fighting this because it is the biggest fight we all face.
Enjoyed this article? Listen to the full podcast here, and connect with Christopher on LinkedIn to follow the Protium journey.
Posted by: Brightsmith Recruitment