05.09.2023
Closing the Electric Vehicle Battery Loop with William Bergh, Founder of Cling Systems | Season Six, Episode Seven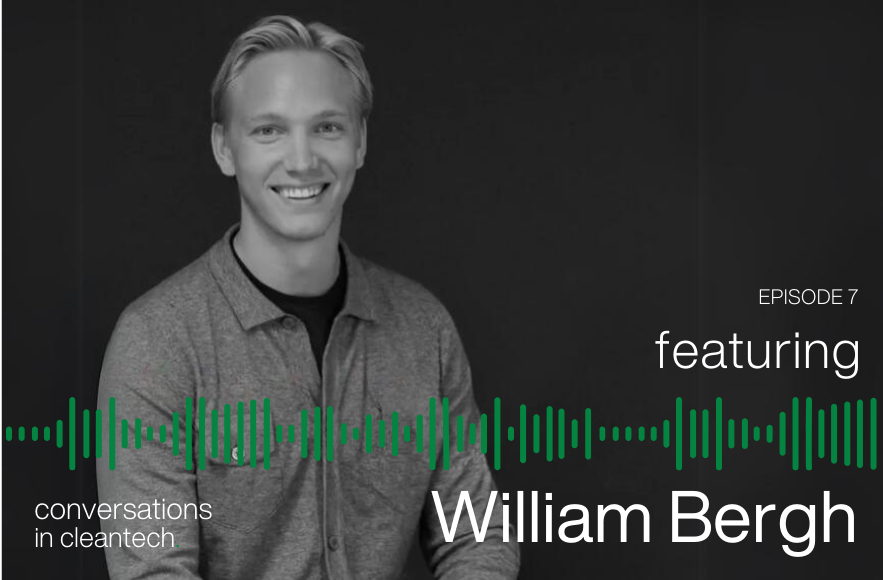 Welcome to Season Six of Conversations in Cleantech! From inspiring stories and words of wisdom to future foresight and the tech from the bleeding edge of cleantech, during this season you can expect to learn all about how pioneering start-ups and the founders at their helm are propelling us towards a cleaner, greener tomorrow.
In this podcast episode, we're delighted to be joined by William Bergh, the founder of Swedish cleantech company Cling Systems.
William's passion for climate change, love of technology and commitment to being part of the solution led him to found Cling Systems, a company that is on a mission to close the loop of electric vehicle batteries, ensuring they are reused, repurposed and recycled.
Including his background growing up in Sweden and studying in Hawaii - which sparked his passion for nature and the environment - this podcast covers William's intriguing and unique journey so far.
From playing Soccer and studying Environmental Science to meditation, motivation, how circularity works and why it's so important - William and your host, Jen, also dive into the rewards and challenges of being a founder within the cleantech space.
Take a listen today to get your cleantech fix!
Timestamped Agenda:
00:49 - Introduction to William
04:16 - What was your reason for studying in Hawaii?
07:29 - What brought you back to Sweden?
08:14 - The Scandinavian education system is just incredible compared to almost every other country in the world, how do you feel that benefits the people there?
12:30 - Can you tell us the story of how Cling was born, from the motivation to the idea to the infancy of the business?
23:47 - Outside of people, what are the biggest challenges that you faced as a founder?
30:47 - Is there anything really important to you, to help keep that positive mindset and also to have a dual focus in life, so it's not all about work?
34:46 - Can you leave our listeners on a note about resilience and not giving up the fight for change, but also having some sense of acceptance on how we live with it?

Find out more about Cling Systems here: clingsystems.com
Connect with your host Jenny Gladman on LinkedIn.
Find your guest, William Bergh on LinkedIn.
Thanks for listening to Conversations in Cleantech brought to you by Brightsmith.
Posted by: Brightsmith Recruitment