Micro-mobility company launching in the UK!
Micro-mobility company launching in the UK!
What's the company?
This fast growing, micro-mobility tech start-up is 3 years into their journey and ready to bring their technology and operational capability to the UK. They are passionate, they are driven, they are community focused and they are a mission to succeed!
What's the job?
The City Manager will lead the growth in each City the launch and also play a significant role in the entire UK launch of the business. As a UK founding member, you will be a local ambassador for the company, whilst also being responsible for assessing the local opportunities, challenges and defining the growth strategy across multiple cities.
What's required?
The ideal person for this role will be considered, confident, analytical and fascinated by people and the way in which they travel. You must be confident working independently with the support of a remote team (initially). The absolute key to success in this role will be a passion, determination and motivation to succeed!
What are the responsibilities?
Hire a team and like-minded, driven people
Build relationships with local partners, councils and government departments as required
Understand all policy and how this impacts the business
Define and deliver the local growth strategy (city by city)
Lead operational strategy across UK
Deliver talks at local events
Manage supply chain
Who are you?
Self-motivated
Resourceful
Passionate
Driven
Curious
Solution oriented
Determined to succeed
What have you done before?
Worked in a fast-paced, entrepreneurial business
Grown a knowledge and insight into data, technology and innovation
Gained an insight into mobility, ideally e-mobility, shared mobility and even more ideally micro-mobility platforms and services
Consultancy, Project Management, Business development, Account management or Relationship management would all be very relevant
What's next?
Get in touch and tell us about yourself, why this appeals to you, what you can bring to the party and hopefully why you will become the City Manager for this exciting micro-mobility start-up!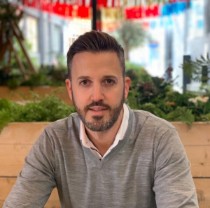 Tommy Bright
Director & Co-Founder
+44 (0) 7775 882768