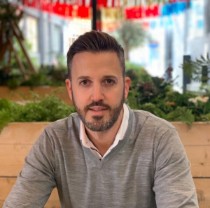 Tommy Bright
(Director & Co-Founder)
+44 (0) 7775 882768
Why did you set up brightsmith

Good question! Put simply, we wanted to recruit into markets that had real interest to us and were purposeful. The timing was right in terms of where Adam and I both are within our careers and we share the same vision and ambition for the business. I believe with the experience Adam and I have gained in our years as consultants and more recently managing successful teams and businesses, that we have a great deal to give. We are looking forward to building an inclusive business, where our own people's wellbeing, success and enjoyment is of paramount importance.

Do you have any skills or talents that people don't about you?

I've got three killer dance moves! Scrap that – I've got 3 dance moves.

What publications do you regularly read?

It's something I've got much more into in later life; maybe approaching 40 has made me more inquisitive and I like a real mix of things! I love an auto biography, love anything about ancient civilisations and history. I've recently started reading Race & Class in the Ruins of Empire by Akala, only 3 chapters in but gripped. It's on my bedside table next to I Partdridge, we need to talk about Alan! Nuff said!

What are you happiest doing when you're not working?

Travelling, playing golf, spending time with the family, my wife and young son. We have a new addition, a Cavapoo called Buddy who's great fun. I used to love watching Arsenal win, now I just enjoy watching Arsenal!