17.06.2021
Insights from Driving Sustainable Movement - conversations in cleantech episode four with Jane Hoffer, CEO at Gowithflow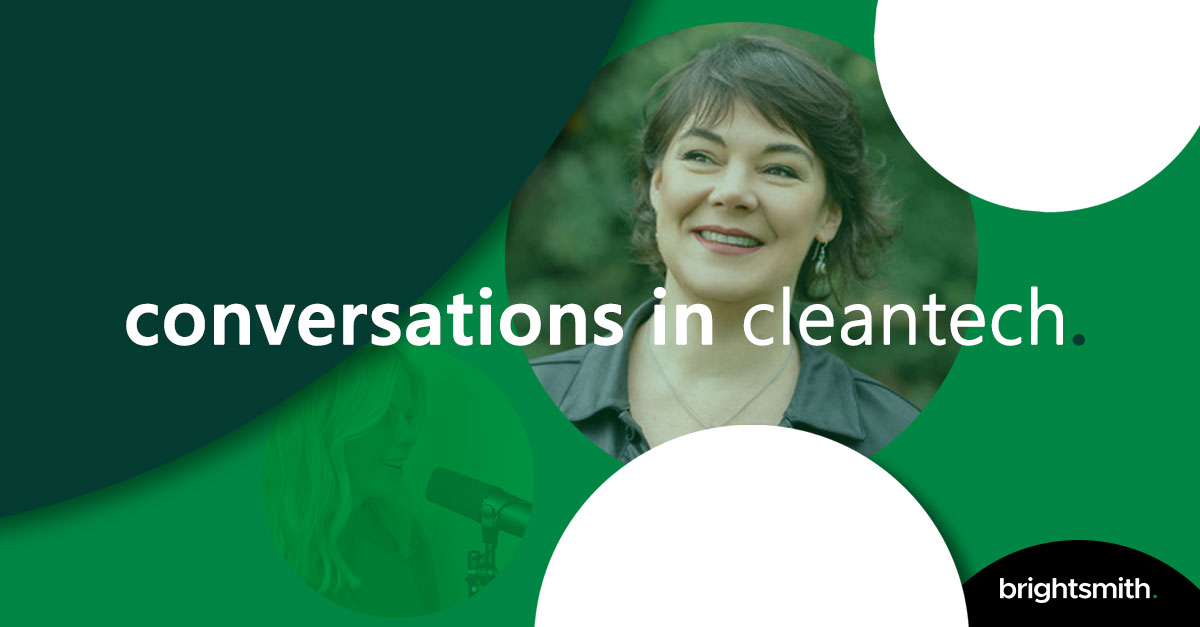 Jane Hoffer is the CEO at GoWithFlow, a Sustainable Mobility Resource Management solution that uses its unique framework to help enterprises realise their operational, financial and environmental goals. The business works with corporations and communities worldwide and manages over 4500 vehicles, 250 users, and 4000 EV chargers. GoWithFlow is backed by Galp Energia, one of the biggest Iberian companies and an innovator in energy delivery.
Jane is a proven technology leader with experience in startups, growth-stage companies and global enterprises. She holds an engineering degree from Texas A&M University and uses her blended engineering and sales background to build on and expand GoWithFlow's Sustainable Mobility Management Solutions. Before joining Flow in January 2020, Jane was the Chief Business Officer of Veniam, a Portuguese company that provides smart grid solutions for connected cars and autonomous vehicles.
Read on for Jane's key insights but, also be sure to listen to the podcast in full here.
Tell us about your global journey – how did you end up running a sustainable mobility startup?
GoWithFlow is my sixth startup. I started in the corporate world (within sales and marketing) and then joined a software company early in my career that I purchased out and grew. After I sold my business, I started helping high growth startups being brought in by their investors and working with the CEOs to grow their businesses. That's how I actually got introduced to Portugal. I joined a startup here in Portugal called Veniam, an intelligent networking platform for connected cars and autonomous vehicles. Here I got to understand the sustainability and mobility industries.
Why were you drawn to the cleantech space and, how important is sustainability to you?
I've always been interested in sustainability. My father was a farmer and, he became an engineer after university. As I grew up, we were always doing things with the land, so I've always had an awareness within me and a drive to make the places in which we live last for the future. Technology presents a great opportunity to help us achieve sustainability. Therefore, as I've gone through my career, I've always looked for opportunities to use technology to bring about major shifts that ultimately improve the way that we live. Our tagline at GoWithFlow is "changing the way people move for the better" and, every day, we do what we can to make that happen. The opportunity to change transportation, improve the quality of life and the quality of the air, in addition to helping businesses reduce costs, is something that makes me so excited to get up every day.
What is cleantech and, how do you live your purpose?
Cleantech is a very broad category that represents opportunity; it includes everything from the hardware and the software that enable processes to drive renewables to enable a circular economy, and so on. The cleantech space is everything from manufacturing, process, and financing – it's transversal.
It's also the people. Change doesn't just come from me and the leaders; we have a team of motivated and passionate people. For me, living my purpose and living the purpose within GoWithFlow is to take the opportunity that I have to enable and empower the team to make these important changes.
Talk us through GoWithFlow… the past, the present and the future!
GoWithFlow is a sustainable mobility platform consisting of a mobile app and operations back end. It is intended for companies with fleets (service fleets, benefit fleets, final mile fleets etc.) to help them in their electrification journey and move away from gas and diesel vehicles toward a low emission, no emission future. GoWithFlow enables drivers to find the right vehicle and charge at the right charging station, whether at home, in public or at the company location. The back-end solution helps fleet managers, energy managers, and financial managers manage this heterogeneous world that they are transitioning into. It will be a decade long journey for them to move their fleets from gas and diesel to electric and, this platform is the glue for them – it will provide support to them during what will be a challenging and tumultuous period.
I call GoWithFlow a 10-year startup because the technology was born within a Research and Development Organisation a decade ago. Early team members were at the forefront of the first prototypes; they completed the first testing for electric mobility here in Portugal (including the software that's been developed to revolutionise the public charging infrastructure), worked on some of the first EV chargers and looked at the first fleet electrification.
We're in a super exciting place right now and, our mandate as a team (and from our board) is to go global. By bringing teams together from other geographies, there is a power of diversity in thought. The core of the development team will remain here in Portugal, but we are also recruiting in Spain and the UK for sales and marketing; this will give us the right footprint to accomplish our goals and widen our presence. The UK and Spain present a massive opportunity for us due to the sheer number of companies and fleet vehicles prime for electrification, combined with progressive attitudes. In the next two years, we'll also look to gain entry into the US.
You took on a leadership role during a global pandemic, what are the challenges have you faced within this initial period of scaling GoWithFlow?
My first month getting to know people was all online. Being apart really challenges your ability to connect and to plan, which, in the beginning, needed to be incredibly strategic. We had to rearchitect the company - going from a project-oriented company to a product-oriented company and doing that over 12 to 18 months is a challenge. However, the timing was on our side. In 2020, we were able to set our foundation. Moving forwards, we'll be building the market-facing team, allowing us to get as close to our customers as possible - understanding in these changing times what their needs are and making sure that our product addresses that.
Being primarily owned by Galp, one of the things that I've learned is to balance the fast movement of a startup with the methodical nature of a larger organisation. We're the first business that Galp created independently and, they've expanded their portfolio, they're learning and they're very open-minded, so it's been a great partnership.
Other challenges we continue to face include finding the right people and retaining our team. Scaling is about knowing your team, giving them the right vision and direction. It's important to give them comfort, space, and encouragement to hold each other accountable in a way that isn't received as personal. We need to be able to raise concerns as we get better together when we're open. Conflict can be good, it's about being critical in a positive way.
What have been some of your favourite moments so far?
Closing our first contracts as a new company within a short period, signing a contract with IKEA in Portugal and being named Portugal's Best Cleantech and Industry 4.0 Startup of 2020. On a personal level, I'd also say having my husband and me in the same time zone!
More widely, I'm proud to be involved in Diversity initiatives. In the US, I got very involved with the Alliance of Women Entrepreneurs, spending a couple of years as its president. I started my first company in 1996, and there weren't many women in leadership or being funded so, I feel very strongly about supporting these communities. Here in Portugal, we are active in the Portuguese Women in Technology Group which helps promote women in technology.
What does the future of cleantech look like within your industry?
A lot of the companies we're working and partnering with exchange ideas - there's a common purpose that unites us and, it seems like we're in the earliest stages of a fundamental shift. In terms of mobility, I'm excited to see innovations around the ease of adoption and the next evolution of the charging infrastructure. I'm really excited to see how solar and EVs will be married and how hydrogen evolves... there are some amazing things under development that are going to make an impact in the latter part of this decade.
Listen to the podcast in full here. Check out GoWithFlow's website and connect with Jane on LinkedIn to follow her journey within the mobility and sustainable movement industry as well as the startup scaling space.
Posted by: Brightsmith Recruitment