23.02.2022
Insights into taking charge of the future with Daria Hedburg conversations in cleantech, season two episode five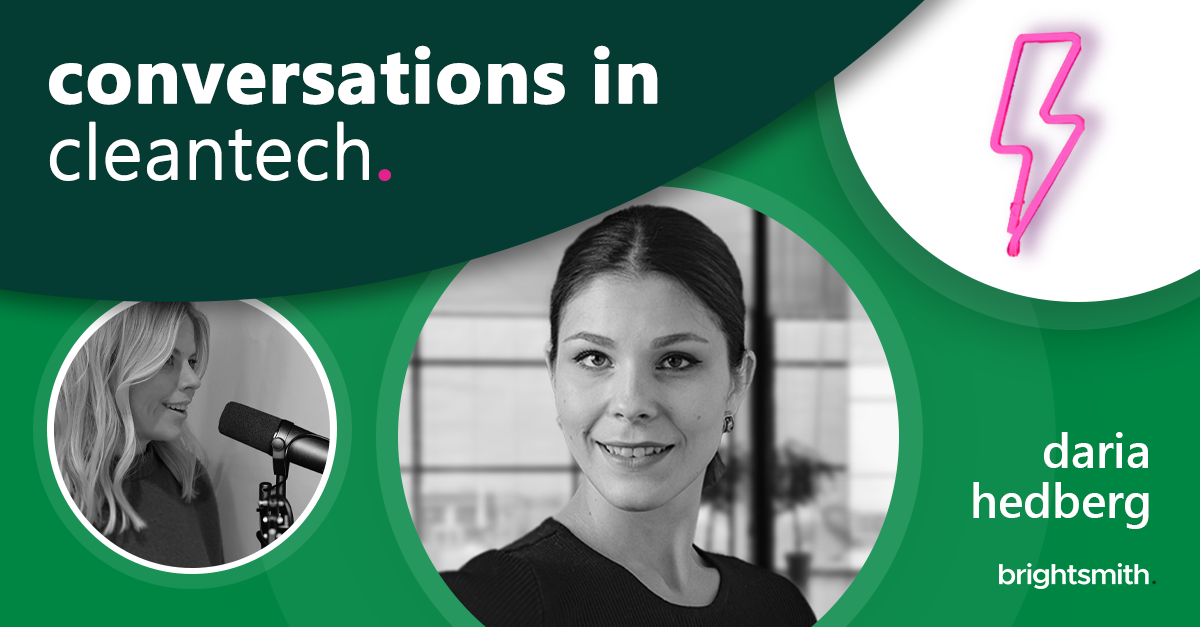 Insights into taking charge of the future with Daria Hedburg, Business Development and ESG Manager at Geyser Batteries
Daria Hedberg has led a pretty fascinating life – born in Russia, she moved to Demark, then moved back to Russia for a brief stint before moving to Finland at age 16.
For the last year, she has been calling Paris her home, working for Finnish start-up Gesyer Batteries and enjoying all the finest things France has to offer – namely cheese, wine and boxing!
Daria is leading the charge in both Business Development and ESG at Geyser Batteries but hasn't always worked in the cleantech space. A Marketing and International Business graduate who felt compelled to live her purpose and go back to school to study process engineering, Daria's passion for her job and the tech she works with shines through.
Gesyer Batteries offer high-power, heavy-duty, batteries based on novel proprietary water-based electrolytes, unique engineering and manufacturing know-how, for a safe and sustainable solution to energy storage.
Read on for Daria's key insights, and be sure to listen to the podcast in full
here
Tell us how you started studying Marketing and International Business and then ended up in the batteries tech world, doing something totally different?
It's been a thrilling journey, not only working for Geyser Batteries but in my life - as you mentioned in the beginning, I've lived in several countries which I think has also shaped up my view of the world. I moved to Finland at the age of 16 where I started studying marketing and international business. Then once I graduated, I happily worked for a while including in the art industry for a little while.
Then, I realised that I want to do something meaningful and that I really want to make a positive impact in this world, which has been really dictating my choices and my career development since then. I thought about what the best way would be to do this, and I thought of looking into innovation and technology, but to work in tech I really needed to have some background.
As a result, I went to study process engineering. It was there that I also joined an amazing community of young professionals who are really passionate about the future, and I joined a team of women in tech in Finland. The organisation was promoting inclusion and diversity in the field of technology, which is a small part of my career that I still hold very close to my heart, diversity and encouraging young ladies to work in this field.
After I completed my studies in process engineering, I worked on the commercialization of laser technologies which was my most recent project before I joined Geyser Batteries. I thought that photonics was an amazing, exciting field, and I was really thrilled to work with the community to develop the technology which would be suitable for medicine, for example, and just to have an impact as I mentioned before.
But then came up the opportunity at Geyser Batteries, and now I do not really think that there is anything more exciting than clean technology and energy storage. So, it's been a very long journey, but I'm really excited to be here.
When it comes to battery technology, and the innovation and the development in the sector, it's sometimes quite polarising as people can have very different views on how sustainable and the longevity of the sector.
Could you give us your thoughts, wisdom and overview as someone that's really embedded in that space?
Absolutely. So, when I came to the energy storage industry, I also had to educate myself on different types of energy storage technologies, battery technologies and to see how Geyser Batteries are different and what change we can bring to the sector and to our clients.
There are a lot of different battery technologies, the leading kind is the state-of-the-art lithium-ion batteries that pretty much everybody knows about - everybody knows Tesla, everyone has a laptop.
They are very versatile application-wise, but what I think is worth mentioning is the fact that the field is absolutely fascinating in terms of the developments that are happening on the innovation side. There have been innovations in the lithium battery technology with more to come, and we have the new generation of solid-state batteries which everybody is very much expecting and hoping for those to come to the market, but we're yet to see when it will happen.
There are also other different technologies like what we do at Geyser Batteries. We are not lithium technology; we are based on proprietary electrochemistry. It's different from what you see, for example, in the car industry, as we do not make batteries for long-duration energy storage. Geyser Batteries are made to be the front fighters for example, in Power Grid applications. You know, the sun doesn't shine 24/7, yet there is a lot of energy created, so we need to somehow use it whilst balancing the disturbances which are caused by renewables in the grid. This is what batteries like Geyser can be used for.
When we combine efforts and start using different battery technologies together, in my opinion, we are on a much more promising route to building a sustainable future with climate neutrality.
Those of us in battery technology have to work together, not against each other, and really need to see how we can combine efforts to really unleash the power of renewables.
Is there anyone in particular who's really inspired you?
I think there are several people that inspired me, mostly the people who actually I have had a chance to work with, so my colleagues. In my job now, it's the CEO of our company (Andrey Shigaev) that also inspires me because he's leading by example, and I think that's really important to have a manager or a boss who inspires you and who shares your vision.
I recently realised that my father also inspires me a lot. He was a sailor and a Marine Captain, but after the age of 43 he started his own company. It was a big change for him to make, and he ended up leading more than 1000 people at one point. So, he really inspires me and I look up to him.
Enjoyed this article? Listen to the full podcast here, connect with Daria on LinkedIn to follow her journey into taking charge of the future.
Posted by: Brightsmith Recruitment